Being a relatively recent owner of a Sega Saturn, I've been keeping my eye out for the right bits and pieces for my kit. The fact that I had only 1 Saturn controller at the time and Sam's infinite love of the color pink made the announcement of the new Game Pink Sega Saturn controller back in October an obvious choice.
I don't do this often, but I went ahead and pre-ordered the controller from Limited Run. It wasn't a hard decision to make because of how reliable Limited Run has been and the fact that my other Saturn controller is also a Retro-Bit controller (officially licensed by Sega, too). Plus, anything that helps fund Breast Cancer research and treatment is a good deal. I recommend checking out Game Pink and the National Breast Cancer Foundation for more details on all they do.
After much waiting, I finally received my new controller in the mail this January. It was a bit of a surprise since I wasn't exactly expecting it since I don't remember getting any email notice beforehand. As expected it feels just like the real deal but with the extra translucent pink flair, of course. (+ some swag thrown in!)
In the spirit of things, I spun up my new copy of Tomb Raider for the Saturn and got through the first couple of levels with no issue at all. Later, Sam, my friend Nate, and I battled out a couple robot fighting rounds of Virtual On. I'd love to give a more in depth review, but there's really nothing much else to say here. It's a bombin' controller with a bit of breast cancer support thrown in.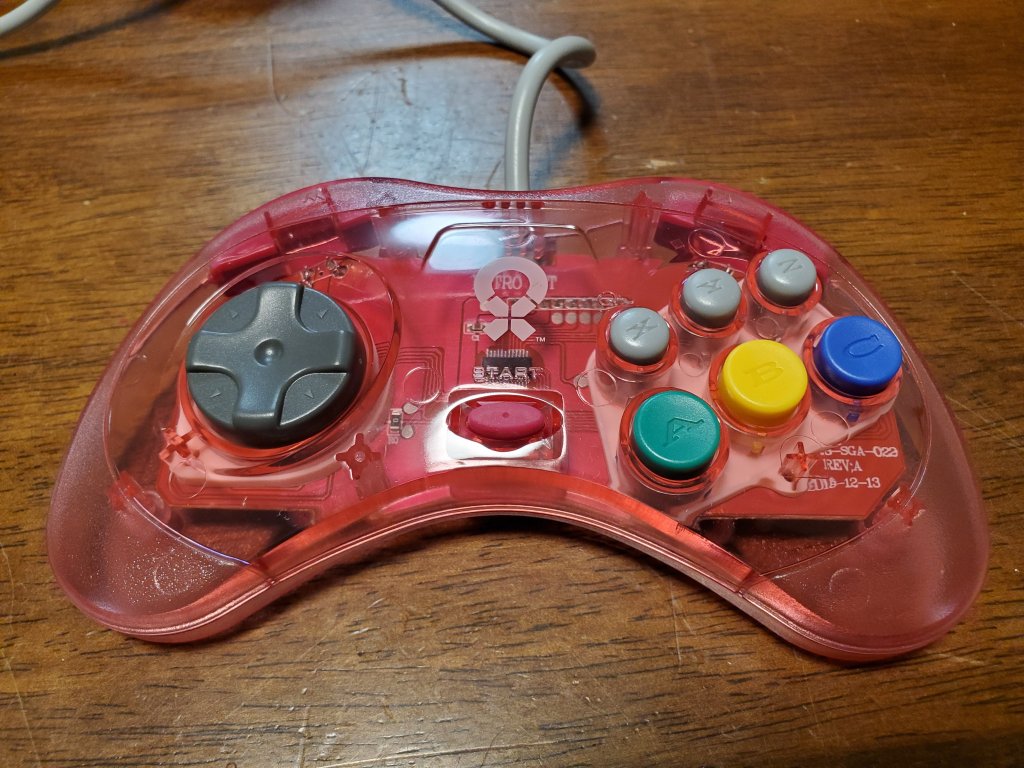 I almost forgot to mention that the cable length is really nice. It's somewhere between 9 and 12 feet long, perfect for sitting a good distance away from your console on the couch. No need for cable extenders here.
---
Unfortunately, if you want one yourself, you're not going to have too much luck. There are a few out there for sale on Ebay, but they're going to cost you the scalpers price. And as far as I know, none of that money is going to make its way to Game Pink (excluding the initial purchase, of course). All of the other controllers (Genesis and such) are sold out as well. If you are really interested in supporting the National Breast Cancer Foundation, I would donate to them directly. If you're just looking for a good quality new Saturn Controller, pick one up from Retro-Bit (the slate grey one is my favorite). But if you're looking for a one-of-a-kind controller, I'd just wait until the next cool thing comes along.